<![if !vml]>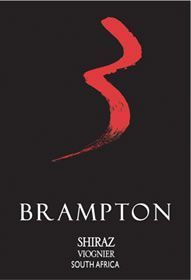 <![endif]>
<![if !supportEmptyParas]> <![endif]>
http://www.wine.co.za/Directory/Wine.aspx?WINEID=10180&PRODUCERID=
<![if !supportEmptyParas]> <![endif]>
Brampton Shiraz 2002
<![if !supportEmptyParas]> <![endif]>
This is a Rustenberg wine, a very well established SA company, but whose wines I have yet to taste. Check out the details in their link above. The most interesting thing I see is that they crush part of the viognier crop with the shiraz from the get-go.
<![if !supportEmptyParas]> <![endif]>
In San Francisco, SA wines seem to be the odd men out, totally eclipsed by those of Australia –which usually are displayed in the same part of the store. I was lucky to find 2 SA wines at the Wine Club, neither of which was known to any of the salesmen I talked to. Being that someone from the wine club picked these, I figured I couldnÕt go wrong. I did choose the one that was $11.99, instead of the one for $24.99. As curious as I am to try new things, itÕs tough to plunk down my 25 bucks for something South African when IÕm surrounded by beautiful French, Italian, and American wines that are probably a better value out here in the California wine country.
<![if !supportEmptyParas]> <![endif]>
That being said, I was pleased by my purchase, and impressed by the inventive blend of Shiraz and Viognier. Someone correct me if IÕm wrong, but I donÕt believe any of the standard Rhone blends are allowed to use any viognier. I do think this is more of an Australian thing.
<![if !supportEmptyParas]> <![endif]>
On first opening the bottle, I was hit by a big horsy-barnyard-like nose, reminiscent of a St. Joseph. This quickly dissipated though, and big, ripe fruit aromas started to come out. Blueberry and mint dominate, with slight stemmy green aromas coming out. Slightly hot on the palate for something that is only 14.5%. (A couple of days open helped this a bit.) I expected the exotic tropical floral scent of a typical viognier, but itÕs buried in the mix. It has an oaky backside, but not dominant.
<![if !supportEmptyParas]> <![endif]>
This went well with a dinner of marinated chickens on the grill with preserved lemon and rosemary. IÕll buy it again.
<![if !supportEmptyParas]> <![endif]>
My grade 8.0/10
A very good value for under 12 dollars US.